Easterseals Crossroads podcast on assistive tech features XanderGlasses
Easterseals Crossroads, a leading provider of programs for people with disabilities, has helped people with ...
---
Easterseals Crossroads, a leading provider of programs for people with disabilities, has helped people with disabilities achieve and maintain independence for over 80 years. The organization began an assistive technology employment training program in 1979, and in 2007, partnered with the State of Indiana Division of Disability and Rehabilitative Services to establish the Indiana Assistive Technology Act (INDATA) Project to increase awareness about and access to assistive tech. INDATA is one of 56 similar federally-funded projects designed to increase access and awareness of assistive technology. Interested in learning if similar projects exist near you? Read on.


Easterseals Crossroads' INDATA project hosts a variety of helpful podcasts and videos, including "Assistive Technology Update," the #1-ranked assistive technology podcast, hosted weekly by Josh Anderson. The show is designed to keep people up to date on the latest tech developments designed to assist people with disabilities and special needs. We were honored when Josh reached out to interview Alex about how XanderGlasses can help people with hearing loss, especially those with moderate to severe hearing loss. You can listen to the full interview or read the transcript at the link below.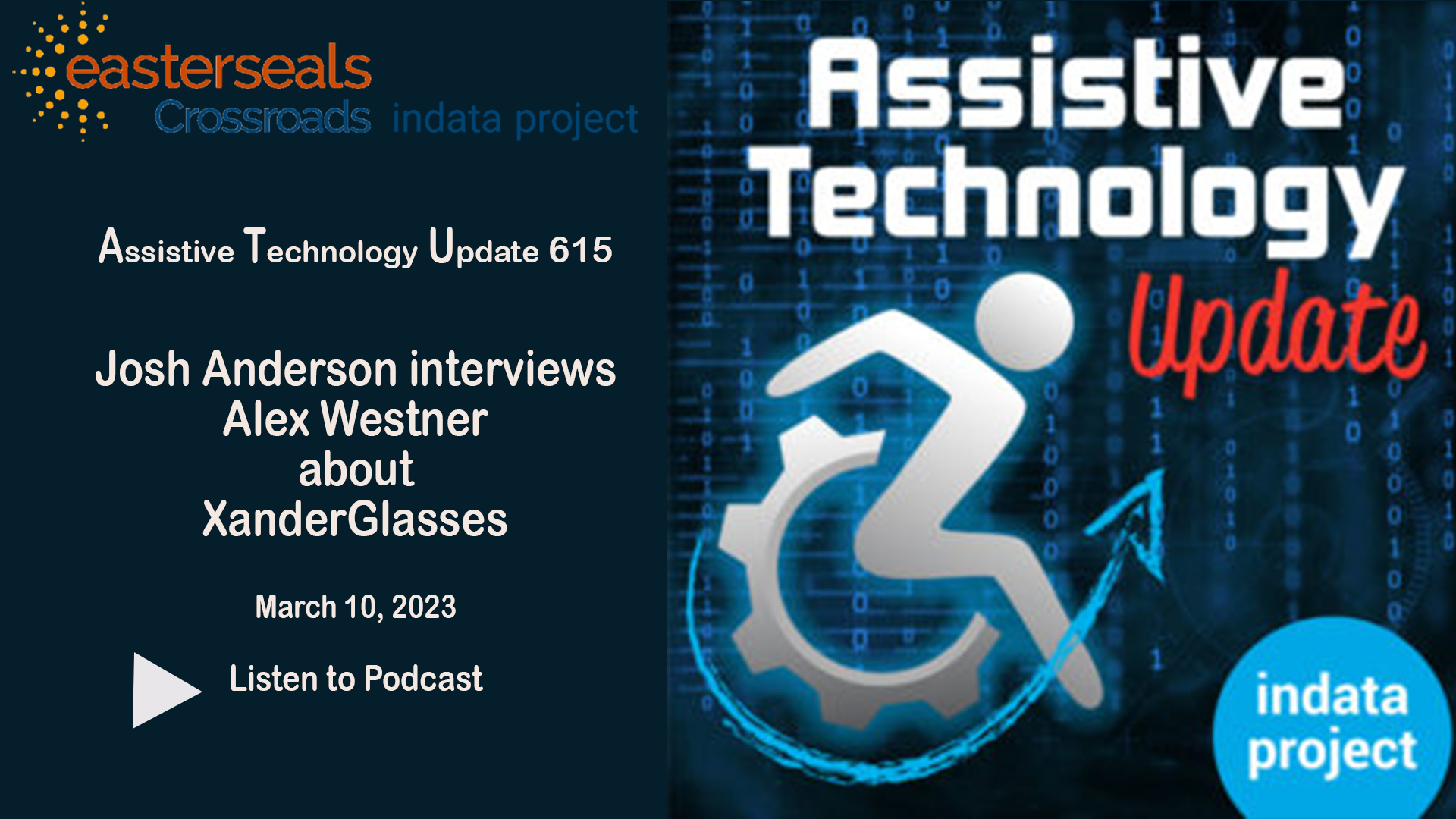 Josh believes that assistive technology can assist individuals with disabilities in achieving their life goals with greater independence. His personal mission is "to be the best he can be for his consumers, family, and friends" shined through in his thoughtful questions about XanderGlasses. The questions he posed captured the breadth of questions we regularly get asked by people who have tested our prototypes or want to get on the list to test XanderGlasses.
Thanks, Josh, for taking the time to talk with us! And thanks to everyone at Easterseals Crossroads for raising awareness about assistive technology that can potentially improve the lives of people with disabilities. The weekly podcast archives provide great information about other helpful assistive technologies.
Other U.S. states and territories offer similar projects that help connect people with disabilities with assistive tech. Discover services near you.